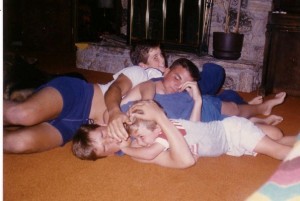 This picture of my brothers & me is precious to me. Not exactly sure WHEN it was taken (is there a date on it, Mom?) but using the info I have & the general ages of the 4 of us  I'm guessing it would have been approximately 1986, making me 17ish, Johnny 13ish, Joel 9ish, & Ben 5. "Why were we wrestling?," you might ask… & I'd say, "Because we COULD." And wrestle we did. Play-fight. Battle Royale, early WWF style. Me against the 3 of them, as it seemed to them that the logic made perfect sense. I was the oldest, & therefore the brothers deemed a 3 to 1 advantage in their favor to be a Just & Perfectly Fair match. No one really got hurt in these battles, although charley horses, head butts, & the  bloody noses were the occasional scars & battle wounds that resulted from our time together. (FACT: only person to ever give me a bloody nose besides theBean – I'll tell that story another time – was my brother Johnny. And he did it with great joy at least 3 times that I remember, each time being such a fortunate accident. Looking back, it cracks me up – from a young age he knew that it was always easier to ask forgiveness than permission. "I'm sorry I kneed you in the face twice, Louie. Please forgive me." Seriously?
---
Today marks Johnny's 48th birthday; it is the 31st (!) birthday of his that our family has marked since he went to heaven on Father's Day 1990. As I sit at my desk right now, I've been listening to a Spotify playlist with a bunch of songs that remind me of my brother. There's a bunch of them… because he was the Original Master MixTape Maker. A big chunk of the memories that I have of him in his Jr. High years are sitting in my room (his was next to mine) with a big BOOM box w/dual cassette player & a CD player too. Made mixing his tapes a little simpler, for sure, & he was always sure to include a hand-written playlist of the songs. What a great insight into the music & words that moved him, that stuck in his head.
Nothing like a song (or a smell for that matter) to take you back to a previous time & place.
---
Didn't really know the depth & breadth of the hole left behind by Johnny's death at 17…
Sure I knew all of us WOULD (parents, brothers, family, friends, etc…) KNOW & FEEL it, but it got really real when my kids started getting older & asking questions about family, life, & WHY things are the way they are. Things like –
…why couldn't they meet ALL their uncles? They've often said that it wasn't fair or right. (I'd have to agree, but life isn't often fair…)
…when they wondered WHY they didn't have any cousins near their ages. And they grieved that loss, the loss of what could have been.
…when they didn't understand why their dad cried at their sporting events, because their intensity, approach, mindset, & body language reminded him of his brother.
As each of them became adults & had their own kids, it has come full circle. I think they get it more now than at any time before. Might just be my own wishful thinking, but I think they understand a little bit more about what they missed out on growing up at least 10-12 years older than the rest of their cousins.
They see it every time their kids (our grandkids) play together; every time their kids ask for their best friends(their cousins) to come over & play; every time at all-family get togethers when everythings-as-it-should-be & it's beautiful, wonderful, & heavenly… & yet someone is still missing…
---
It's funny, but during the last 10 months of the pandemic, I've thought about Johnny even more than ever. About his faith in Christ, his love for God's Word, his 'big-picture' life-perspective on what is 'worth' doing (caring for others, offering & asking for forgiveness, playing hard & often, turning the music up to '11' among other stuff,) & what ISN'T worth doing (holding grudges, indulging ego, petty fights & nitpicking, compromising values & personhood to fit in, etc…)
He was my 'little'/younger brother, but the way he lived in & through the moments of trial, trouble, physical & health challenges – I really looked up to him & his example in those things. We were best friends for most of our lives, but especially as he hit 12 & his early teens. We spent so much time together (commiserating over chores, folding & delivering newspapers, participating &/or watching sporting events, talking before going to sleep at night, all of it.) There's still a hole there.
---
And yet… Today, I am thankful more than ever for my brothers, Joel & Ben – the men that they have become is really quite impressive. Their character, work ethic, devotion to their families… hardly a week goes by that I'm not referencing one or both of them, bragging on them from afar to whatever poor sucker happens to be in a conversation with me that happened to trigger a thought about those guys. I'm so proud of them & I treasure them & their friendship… & I know Johnny would have as well. No malark.
Happy birthday Johnny – miss you terribly.