Interesting week. Got a call from a friend Sunday evening – someone who's been living out of the area for a while, but that is still near & dear to my & my families hearts for a plethora of reasons. His younger brother, E-Lib (my name for him; his parents are truly kinder than THAT,) had been in a fight in Reno, & had been stabbed. My friend was coming to Reno to see his brother, & wanted to crash at the house.
Absolutely. My heart broke. I have 3 younger brothers. I know his brother.
Though we only had a couple of minutes for greetings when he arrived at our home, it was good to reconnect, even under the duress that such a situation brings with it. And the good news is that E-Lib should be okay, albeit with a lengthy recovery.
It was good to see you Kurt. And to meet your buddy Tyler too.
---
Left in the wee hours Monday for a 3 day meeting with our larger church family leadership in Glendale. In a nutshell, the group I met with has been charged with determining a process for & the selecting nominees for the presidency of our denomination. It was lively, though my sitting muscles are incredibly sore from parking on hotel ballroom chairs for way to long. Truly. By the end of Day 2, I needed a crane to lift me out of my chair because my poor bum hurt so bad. Not funny.
---
Ed Stetzer led a big portion of the 'presidential profile creation.' I love listening to him process out loud, & always come away challenged in my own thinking & assumptions. He's a living example of "iron sharpens iron." Thank you Ed.
---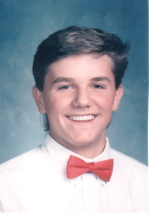 Today marks what would have been my brother John Leavy Locke's 37th birthday. Which means that this June will mark the 20th anniversary of his death, & his going to be with Jesus. Looking back, I can believe that its been 20 years… & at the exact same time, it seems like only yesterday. My memories of him seem like moving snapshots. Thinking of our hours of playing Batman & Robin in our backyard on Upson Lane. Playing wiffle-ball in the backyard & his constant quitting when he didn't get his way. I'd try to tell him, 'You forfeit. I win." This caused confusion because he was 4 years old & must've thought it was an age thing I was referring to, because he'd always respond, "Nuh-uh! You 7-fit!"
---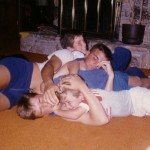 Playing & wrestling with all 4 of us – Louie, Johnny, Joel, & Ben. They'd gang up on me, & I had to develop a strategy to deal with the waves of brothers' attacks: charley horse to Ben's leg. Charley to Joel. With them both incapacitated, I was left to take on Johnny. More often than not, he'd leave me with a bloody nose. Only person (besides theBean,) to give me one of those.
When we shared a room, we'd have late night talks about life, family, hopes, dreams, & sports. He was a terrific athlete in Football, baseball, & basketball. I was so proud to be able to watch his games & see the ease at which he played them. Amazed me.
And his gentleness & compassion. And tenacity. All of those came out full bore when the cancer was diagnosed. In how he interacted with others. Faced adversity. Grew & matured in his faith in Christ, the One who gives a hope in times of hopelessness & despair. I learned so much about what it means to be a Christ-follower from him, esp. because he didn't shrink from difficulty or disappointment. Didn't question why. Just kept going.
I miss him terribly.
When I look at my own kids, I see things every day that remind me of him. Pasty's rosy cheeks after a work out, & his intense, self-motivated competitive drive which makes him invaluable on a team. IDoey's intensity & combustability… Weezer's sweetness. And her laugh. All 3 of them have his compassion. Truly. I've seen it. Like to see it more. :)
I'm looking forward to the day when we'll be reunited. Hope its a while away, but it will be a good day when it happens.
---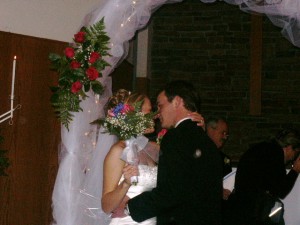 Time flies. Today is also marks a great anniversary – the 5th anniversary of the day my brother Ben married Jessica. She is truly a gift, & I am so thankful for her & how she loves my youngest brother; you truly are a source of joy. And for the girls, EllieB & Zoe-Hawk. Many blessings to you 2 today.
---
Working with Pasty on the possibility of going to a nearby JC for school & football. He's a workout beast, & is really pressing into preparation for this. I'm very proud of his determination, & KNOW he can do it.
---
Can't wait to watch the Vikings-Saints game this week. Colts-Jets will be good too, I suppose, but the NFC game is the main one on my radar.
---
Think I'll make some more coffee.