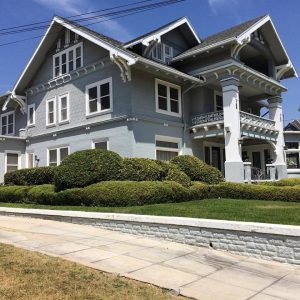 Summer of 1986, I participated in an outreach to Mexico City. The City was hosting the World Cup & our team was helping with a church start that launched during the tournament. On our way to Mexico, our team stopped in Los Angeles for a night… my youth pastor had attended LIFE Bible College when it was in Echo Park,  & he was able to get us a hook up so we could stay in the LIFE dorms for one night for free. The girls dorms. (This blog isn't about that, but it was a pretty cool experience for a 16 year old boy to open a door to a dormitory & find out he is surrounded, literally, by dozens of college aged women. Makes me smile even recalling that memory.)
My youth pastor had regaled us with stories of how dangerous  Echo Park was… stories of muggings, vandalism, drugs, & burglaries. We were told not to leave the dorm & most definitely DON'T walk the streets. The stories stuck with me for the last 30 years, & in my mind, I have always seen downtown LA/Echo Park as a pretty dicey place, a dangerous place, a place I didn't want to stop & smell the proverbial roses.
---
Last week, theBean & I went to LA for a 2-day coaching/mentoring intensive…& it was going to be happening in the "House on the Hill," (a.k.a. HOTH, not the ice-planet. No Taun Tauns were seen,) so named because its a very big 9000+ sq/ft house on a hill. I knew the house was really nice, but it was in downtown LA.. a block from Sunset Blvd. Echo Park. Lots of crime. Gang activity. Bars on the windows & doors.  After we checked in, we talked with our hosts about the usual important stuff: where can we get food? He mentioned several places, noting that they were all in walking distance from the HOTH.
Walking? As in, walking walking?
Yes. Walking distance. And he told us a story. Over the years, the neighborhood changed. It got better. It became a really nice place to live, whether it was due to gentrification, urban renewal, new people/people groups moving into the area, or something else. I almost couldn't believe it, & had difficulty trying to imagine the neighborhood being as my host described it, contrasted with the memories & ideas about it that were bouncing around my head at a million miles an hour.
---
And so we decided to walk to dinner. We'd been craving Italian food, specifically pizza, & of course one of the Best Pizza Places In All The Land happened to be a 15 minute walk away. (BTW – if you are in the area, you have to go to Masa of Echo Park.  We had the Lots of Meat Chicago-style pizza, & in my opinion, it was the best Chicago-style pizza I've ever had. And that includes Chicago-style pizza that I had in Chicago at the Pizzeria Uno. But I digress.) 
It was beautiful.
It reminded me of walking in a German city… the air was fresh & clean, & the streets were filled with  neighborhood markets, mom & pop stores, restaurants, & music shops (it is LA). And a COMMUNITY – a real, tangible community of people. It was obvious that it wouldn't take too long to get to meet & interact with the people who lived there… the people in the neighborhood, living life, raising their families, & enjoying themselves.
My daily walks with our host confirmed it – we walked for about 2 hours each morning on a trail that took us through Elysian Park (We actually only walked for about an hour, but my host stopped & talked to people in their stores & along the trail so often the 1 hour walk lasted 2 hours. But that's how he rolls. But I digress.) It is a truly incredible neighborhood.
---
I think one of the favorite memories I will take from this trip comes from walking the streets of the neighborhood, in Echo Park. The sights, sounds, smells, & PEOPLE of the city. I walk here at home, but its definitely not the same experience. No one will ever confuse Reno with downtown LA.
It also made me wonder. Did I do the same thing with people that I'd done with Echo Park? Here's what I mean:
For years, I had "known" the bad reputation Echo Park had, & I'd rehearsed it often in my head & in conversations as friends talked about visiting LA… I didn't need anyone to tell me anything new about LA or Echo Park, because I "knew" everything I needed to know about it. It's a bad, dangerous, place. I had written it off.
Until reality confronted me – it's changed. It's transformed. Its the kind of place I want to take my grandkids to walk around & expose them to a different way of life. Its the kind of place I want to go back to. For the people. The restaurants. The feeling of life in the city.
And if we hadn't decided to risk & trust our hosts & get out & walk the streets, we would have missed it.
People can get reputations too. One's they've earned. Bad ones. Reputations that make you want to steer clear of them, because you "know" them & how they are. Except… what if they've changed? Been transformed? Experienced new life?
It's worth it to try, to risk, to keep an open heart towards others… to NOT write them off as lost causes. Because God is a specialist in lost causes… in people with bad reputations. And He has a way of making them new.