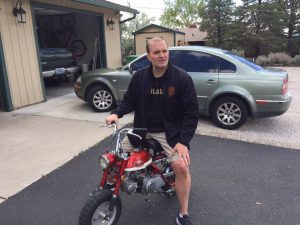 I was in 3rd grade & it was Report Card day. I remember this because Report Card day was a Big Deal at my house, because it meant my parents got to see how I was doing in school… & not just the Academic grade, (which was, of course, important,) but also my Citizenship grade… which may have been the most important one to my parents.
Well, as a 1st born over-achiever, I was already well on my way to developing my perfectionistic tendencies… & I had pretty well dominated all that 3rd grade could throw at me. I had A's on top of A's, & loads of extra credit. I remember distinctly my parents telling me that I'd done well & that they were proud of me. And, as a words of affirmation person, that was the only reward I wanted/needed, & was truly the only inspiration necessary for me to keep pursuing academic excellence.
---
My parents had other ideas – I was laying on the floor of the living room of our house on Upson Lane watching TV… it must have been a good show, because I can remember hearing the muted roar of what was obviously some time of motorized scooter or bike, & not even turning around or looking to see what the noise was. After all, the sound was a pretty normal one for our house… for as long as I can remember, my dad has had motorcycles/dirt bikes, & pretty soon you learn to kind of tune out the sound.
Not today. It got louder. Drew nearer. I even had to turn the TV up.
And then it was in the living room. A red Honda 50cc minibike. And my dad was riding it. In the house. And then he got off of it. And said, "Its yours."
Mine. My very own minibike. I put on a helmet & immediately rode it down Upson Lane into Margot Circle, thereby incurring the wrath of several homeowners who did NOT share the joy I was feeling & called the police on me to make sure that such boundless joy was muted & relegated to the appropriate places, namely, far away from them.
---
I rode the minibike, my "hog," every chance I got – soon after, we moved from Upson Lane to Golden Valley – its dirt roads, vacant lots, & general separation/distance from the City meant most of the world was my racetrack. It was joyous. I rode with friends, with neighbors, with my brother, by myself. I tried jumping it over puddles (& caught absolutely ZERO air.) The memories from a good portion of the next couple of years center on the hog.
And then I grew up.
---
Really, I don't remember when I stopped riding the hog – it was probably when I realized that it only went about 25 mph… & it was so small. And I was more interested in baseball & football, & the unwritten rule was no motorbikes during the sports seasons. I think my brothers rode the hog too, but I can't draw specific memories with them on it. I just knew that like many things from my childhood, my parents kept the hog in the garage with the thought that Someday they'd get it running again. For the grandkids.
---
Over the last few months, I'd heard a couple of stories about the minibike's restoration. My dad found a guy who fell in love with it & had been working on it. No other details. Then Friday, I was dispatched by theBean to go to Carson City to pick up a barstool that she'd commissioned my mom to get for her (it's a long story, but it involves multiple visits to ROSS stores all over Reno/Sparks/Carson CIty.)  I decided to turn it into a visit – to have some time to talk & have coffee with my mom in celebration of the impending Mothers' Day. Near the end of my visit, my dad said, with a twinkle in his eye, "Want to see something?" We followed him into the garage & lo & behold! in the corner of the garage was the red Honda 50cc minibike… but instead of it being well-used, scratched up, & out of commission, it looked… good. Really good. I examined it closer & found that there had been a lot of work done. Engine. Gas lines. Other technical engine thing-ies. And then my dad started it. As soon as I heard the first roar of the engine I was transported back to being 9. I closed my eyes & listened to the engine purr & enjoyed the flood of memories that bombarded my mind.
And then he asked, "Do you want to ride it?" As silly as it sounds, I hadn't even considered it, but as soon as I knew I had the opportunity, I wanted to. I tentatively climbed aboard, (one doesn't just cavalierly mount a Honda 50,) & re-familiarized myself with the gears, hand & foot brakes… & I took off down the driveway.
The hog roared in 1st gear toward the chosen challenge – the hill above my parents' house. I kicked it into 2nd gear, & felt a tiny surge of power as it climbed the hill, slowly picking up speed. Felt like I could ride for days. The sound & smell of the bike, the feeling of the wind on my face, the beautiful day, the memories…
Next thing I knew, tears were streaming down my face, whipped & dried by the wind. I don't know what happened, but riding that minibike for those 10 minutes did something in my heart & I felt a joy that was so foreign yet familiar that I almost didn't recognize it… a leftover from days where I used to do things Just Because they were Fun. What happened to that boy? I miss him.
It was beautiful.