I woke up this morning a few minutes before my alarm… not surprising… except for the fact that the alarm was set for 4:50 so I could have enough time to get to to the church office to make coffee & read a little in advance of the guys showing up for Thursday morning prayer. The blurred numbers on the clock came into focus as I clumsily fixed my glasses onto my face… 4:34. It would be 4:34 today. Sigh.
My mind raced, mentally flipping through the calendar that exists in my head (isn't there one in yours too?) finally coming to rest on today. Yesterday was June 16th, so that would make today… June 17. Hmm. It's the 20th anniversary of the day my little brother, John Leavy Locke, went to be with Jesus early on a Sunday morning, Father's Day, at 4:34 a.m.
I wrote a little bit about my brother not too long ago HERE. And as I sit here pondering the fact that its been 20 whole years since his death & 'home-going,' I take the time to revisit & rehearse the memories I hold most dear of my brother. They flicker through my brain like the rapidly turning pages of a picture book.

Folding newspapers together in the early morning as we prepared to go do our paper routes. Football. Soccer. Baseball. Hoops. What an athlete. He was the best of the 4 of us, by far. Rocking the mullet that shook Carson City on Day 1 of his tenure at Carson Middle School. I don't know if it was the surf shorts, Jetson's T-shirt, vintage Air Jordan's or the infamous mullet that got him called to the office as a "distraction." They hadn't seen anyone like him before. His mix tapes. The rosy cheeks I see every time I look at thePasty Gangster. The smile. The temper. The baseball being thrown at me simply because I went in to wake him up. The grumpy comments because I was on the phone (again) too late with theBean. And a million others…
---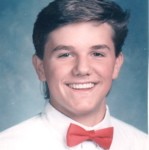 The picture at the left was his last school picture before he was diagnosed with non-Hodgkins lymphoma. And yes, he was wearing MY red bow tie, the same one I'd used to complete my Pee-Wee Herman outfit… It's not like this day is a dark, morbid day that I dress up in black & mope around. Not at all. Rather, its a day of remembrance. Prayer for my parents & brothers. Thanking God that we don't grieve as those who have no hope. But a day where I still grieve. Laugh. Play his favorite songs on my mp3 player (he'd have loved the iPod & iTunes, & the ease at which mixes could be created. He was a Master mix-master.)
---
Father's Day has been forever linked with Johnny since 6/17/1990. Can't seem to think of one without the other; not that I want to think about death an inordinate amount, but hey, its inevitable, barring the preemptive Return of the King. Came across a great book about death, heaven, & processing the loss of loved ones called Everybody Wants to Go to Heaven, But Nobody Wants to Die. Great book, which I'd heartily recommend.
But I digress.
---
It's a celebration, a day of remembrance. So join me:
Here's to Johnny – & the profound influence he has had & continues to have on me & the man I hope to be.