NOTE & DISCLAIMER: I'm not sailing. Haven't sailed. Don't have any plans to sail. Not against it. Just wanted to share a What About Bob?! moment I had this weekend.
Last Saturday, I finished my 40th birthday celebration. I do realize that the date was February 13th, & that it was almost a full 5 months since my 'real' September 19th birthday… but a couple of scheduling conflicts kept the final celebration from taking place; most notably, Petey's 6-week National Guard deployment to an unnamed location in the Middle-East.
See, as a part of the inevitable 'taking stock of life' that my birthday always brings me, I decided that there were a couple of things that I would like to change – habits, patterns, ways of living. (When I was getting ready to turn 25, I read a statistic that said something to the effect that a person develops most of the habits & skills they will have by the time they hit 25. So, I decided that I needed to learn to play guitar. And I did.)
One of the things I decided to change this year involved a decision I'd made about a particular food that I had chosen not to partake of since a rather negative experience from 22 years ago. Sushi. I had it once, & I didn't like it one bit.
I decided I'd try it again.
---
I've never been a fish or seafood guy. Don't exactly know why, other than the smell of fish & fishy-ness sets me off. A fish market is the worst. (Actually, any really strong smell has the potential to do that. Fish. Chemical-ly & flowery perfumes. Floral 'plug-ins' that are supposed to make the air smell better. Most air-fresheners. Except for the new Febreze that is like the 'clothes fresh out of the dryer smell…' But I digress.)
Growing up, my family ate fish. Trout. Shrimp. Crab. Salmon. Halibut. You get the picture. I didn't. I can remember trying a few of them, & feeling the repulsion, revulsion, the nose-wrinkling displeasure of EWWW!
I've heard from plenty of people that I just needed to try "fill-in-the-blank" seafood, prepared in the "fill-in-the-blank" way, & that I would be a convert. I tried a few. Always ended with EWWW!
---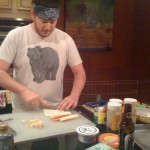 My friends Petey & Debi kept encouraging me to try sushi again. Not just any sushi, but sushi prepared by Iron Chef Heif: Chris Heifner. My friend Chris is an artist in the truest sense of the word – amazing musician. Worship leader. Painter. Writer. And sushi chef.
And so, the combination of their gentle encouragement, Iron Chef Heif's skill, & a willingness/desire to change created the perfect storm: a 40th birthday sushi celebration where I would once again give sushi a chance.
---
It happened Saturday, around our counter, in the company of a few friends, good music (theBean's 40's swing/big-band faves,) some Sapporo (as a shout-out to the real sushi-masters,) & a healthy appetite.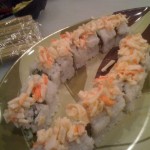 I don't really know what I ate, other than I ate at least one part (portion? slicing? proper terminology would be helpful,) from every roll that Iron Chef Heif made.
My reflections:
-I don't like fish eggs. "Caviar." Big or small. Black, brown, or pink. But I ate it. Salty. Like tasting a fishy part of the ocean.

-Spicy is better. Jalapenos, wasabe, & the hot red sauce (don't recall what it was,) were very much enjoyed & appreciated.

-Soy sauce. The more the better.

-Enough is enough. The pace of the eating, balanced by the time necessary for the preparation allowed me to know I was feeling full before I'd reached the proverbial "Super-Bowl" or Thanksgiving full-ness. Which probably made the whole experience more enjoyable, in that I didn't have the "I can't believe I ate so much" regrets. Other than the little fish-egg leftovers I was picking out of my teeth for at least 3 hours after.
---
I've been asked if I liked the sushi. It was good. Different. Don't really have anything currently in my world to compare it to. Not a negative experience. Just don't know.
But I'll let you know if I end up craving it.
---
So… Thank you Chris, for your hard work & artistic preparation. And Pete-Debi, for your encouragement. And friends for celebrating with me.
Did you know what's happening? I'm growing.