Left early on Wednesday morning for the airport with my favorite Transporter, theBean, in the drivers seat. We had the full gamut of emotions on the trip, from laughing to tears. It's hard to leave home.
My flight from Reno the LAX was uneventful, but the gate for my LAX  to Washington-Dulles flight was on the other side of the concourse. Which meant a sprint. And a prayer to hope that the baggage handlers were sprinting too… :)
On my flight, I felt the LORD dealing with me about faith & believing – specifically in regard to anxiety that I have had about this trip, most pointedly about the "Revolution of the Soul" mini-seminar I'll be doing in Frankfurt this Saturday. I'd like to say that I've been the picture of a man of faith, full of resolve & confidence about what I'm doing, & about what is happening. But if I said that, it wouldn't be true. I've been anxious. Worried. Stressed. About the unknown. And even some of the known.
I felt the LORD saying that He's given me everything that I need for what I'll be doing – the mini-seminar included. And that by worrying, stressing, & being anxious, I was not believing Him for that provision, for the words, for the direction, & that somehow, someway, whatever happened good or bad, was somehow MY responsibility.
Ooh. Not good.
So I repented. Asked forgiveness for my ego-centrism, worry & preoccupation. Prayed for a heart & mind  renewal. Thanked God for what He's preparing for Saturday… & that I get to be a part of it.
---
After my 4 1/2 hour flight to Washington Dulles, I looked around to see what gate my Washington-Frankfurt flight would be departing from. It wasn't listed. That made me a little nervous, so I checked with a couple of United personnel to see if they had a clue. No dice. I pushed away my anxiety, & thanked God for the peace that I knew He gave & will give, a peace that I determined to contend for.
Walked to the other end of the C Concourse to the United Customer Service desk – & on the way, called United Customer Service as well. The automated 'agent' on the phone was very helpful & told me exactly what I needed to know, & where to go. The personnel at the airport were having some troubles locating the airplane & gate, & my flight never did end up showing up on the Departures board. I did however board my flight. Right where the automated agent said it would be. Thanks Hal!
---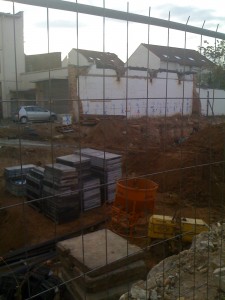 Landed in Frankfurt, & picked up my bag (Yes!) then headed out to meet Eddy, the pastor of our sister church, Treffpunkt Leben Foursquare Church (TPLF.) We took a few minutes to catch up as he drove us back in to town to pick up his 2 oldest boys from school. On the way, he took me by the site of the old TPLF building – there is literally NOTHING there – The entire building, all the way down into the ground, was torn down & the rubble removed. A new building will be built in its place as soon as a new foundation is being poured. I hope to get a picture or 2 of it when I go on my walk this afternoon.
We took a brief foray by the new TPLF church offices, said hello to the multi-talented & imminently gifted Elena, then made our way back to Eddy (& Laura's)  house for lunch. I have to confess: one of my favorite things about staying with Eddy & Laura is the FOOD. Spaghetti & meatballs. So. Good.
---
It was about at that time that I passed out on the couch, & woke up… slowly. It took me a while to realize who (let alone) where I was. Turns out, I slept for about 30 minutes, then stumbled around groggily to get my bearings. Took my daily "EmergenC" & myVitality. And my brain turned on, & I took a few minutes to catch up on the election coverage from the vote Tuesday, & decided to blog a bit.
The sum up: I'm well, encouraged, jet-laggy, in a safe place with great friends, in one of my favorite cities & places in the world. Praying for focus, clarity, & the ability to see what is really important for me to pay attention to & do today. I'll post pictures later, God-willing.