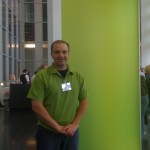 In the evening, I headed over to TPLF for the meeting of the Twenz – aka 'college group', better known as the Flying Ducks. I have to confess, I was walking the Kurfuerstenstrasse, & smelled the doener from Bistro Sahin… & next thing I knew, I was inside, eating one. With a hot Turkish tea that hit the spot on the rain-soaked, chilly evening.
At the Ducks, we spent time in worship & then in talking through the difference between being a "believer" in Christ & being a "disciple," using John 8:30-34 as our text. Got to meet several great people, most notably a bubbly, inquisitive, & really smart young lady, Aggi, who's studying to be a teacher. She kept me on my toes with a series of probing questions throughout the message, each of which built on the previous one. Her developing understanding & the "a-HA!" glimmer that sparkled in her eyes as we processed as a group reminded me just WHY bible study & discussion groups are my favorite thing in the whole world.
After the meeting & before I made my way home to catch some much-needed sleep, Aggi asked me to pray for her: that she would make good marks on her final exams before becoming a teacher; that she's be a blessing, a real blessing (her words) to her family & friends; & that she'd be able to walk. Aggi was born prematurely & had some areas of her motor development that don't function right yet. And still, she's hoping & contending for healing, to be able not to have to depend on her chair to get around. And even better, Aggi isn't waiting around in solitude for this event – she's actively living a great story that speaks to the power of God's love in & through her life.
---
This morning, I woke up at about 5:30, thanking God for the early wakeup call. The mens' breakfast for Kingdom Life Church started at 7, so after getting ready, Eddy & I walked over to TPLF. One of the many things I am appreciating about Eddy is that like me, he is a quiet person in the morning. All's I can say is we are truly kindred spirits in this regard.
There was a great breakfast prepared, with lots of steaming hot coffee, which is just what I was praying for on the brisk walk. A parfait that would have made theBean proud was served, along with a great assortment of German breads. I spoke from Psalm 126 – talking about God's restoration & living in the "middle" between sowing & reaping.
---
Got back to the Duecks & sorted through my bags in what has become a 'preparing to come home' routine. It's where I take stock of what's in my suitcase – folding what needs to be folded, separating dirty clothes, laying out my outfits for the next 2 days, making sure all is where it should be for the voyage home.
Today was also the day to get my manly (oh so manly,) shoulder bag that I shopped for yesterday. I jumped on the U-bahn to Hauptwache, & made my way to the "Street Culture" store… only to find that this was the only store in the downtown that didn't open at 10. No worries. I'd wait.
In waiting, I got hungry for 2nd breakfast (I am on a journey, so maybe some Hobbit-like tendencies are emerging,) so I stepped over to the McCafe next door for a coffee & chocolate croissant. Amazing.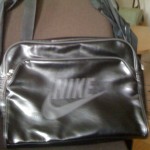 Finally, the store next door opened & I literally stumbled in, absolutely nailed my right knee cap on a seemingly invisible bench that emerged out of nowhere. Goodness. Made my way upstairs & debated between the black, white, & grey bags… finally deciding on black with grey accents. (Not quite Raider-esque…) Take a look. I think it is quite the Manly shoulder bag.
---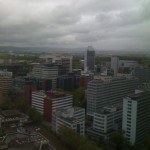 This afternoon, I was invited to go to take a tour of Levent's workplace. He works on the 22nd floor of the building, which provided for some great views of the surrounding area. We got to eat in the Cantina…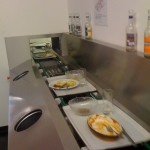 I had a canneloni that tasted like Spaghetti-O's. Which is a good thing. I absolutely loved the conveyor belt that took our dishes into the kitchen. We are in Germany, I keep reminding myself.
---
Eddy & I are now off to Gau Algesheim for dinner & also to hang out with theology school students, as well as many of the pastors from Foursquare Germany. We'll be there for the evening, returning late tonight, where I'll be hoping for some good sleep, as I have a full day of meetings tomorrow…