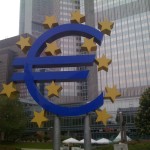 Meeting for breakfast with an old friend, Claudius – took the u-bahn in the brisk morning air to the Willy-Brandt-Platz (named after a German politician.) I got there a bit early, & spent some time people watching. Met a guy from Brazil who is playing basketball at Westerm Michigan U in Kalamazoo, Michigan, & talked hoops a bit. He's traveling with friends, & I took some pictures of them in the park, standing under the big "E" monument celebrating the European Union.
Claudius arrived & we made our way to a café we've visited many times over the last few years. He is something of a 'romantic' in that he likes to plan surprises & this time was no different. The breakfast that came out for me was nothing short of incredible, with an American style omelette with all of my favorite ingredients; fresh squeezed orange juice, a croissant & brotchen (little bread) & of course a bottomless cup of coffee. It is truly meaningful to be thought of & planned for. I greatly appreciated our talks, the opportunity to catch up & hear about the happenings in each others lives. Good times.
---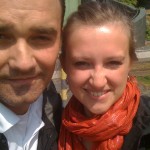 Made my way to the KonstablerWache (a kind of police station in the downtown of Frankfurt,) & met with our dear friend Dudi (sister of Philip, who I got together with for breakfast a couple days ago,) for my next meeting. TheBean & I connected with Dudi on our first mission trip to TPLF in 2005; over the last few years as she's been working her way through university, she's had a couple of opportunities to come & stay with us in our home, most recently this last September. We made our way from the KonstablerWache to a quirky little restaurant called, "Maingold" – reminded me a lot of Reno's own Java Jungle crossed with Deux Gros Nez…
One of the themes that came up (again!) was fatherhood – the need for positive, encouraging, supportive-without-being-controlling male input in the lives of 20-somethings. Its something that I'm meaning to write about in more detail soon – but hearing Dudi talk about the great need for this encouragement, positive pouring in to help young men & women step into their own calling & stage of life, made me a bit weepy. Its something that I've felt the Holy Spirit's 'nudge' about for the last couple of years, & it's very gratifying to hear the confirmations over & over & over again from such a variety of sources… reminds me that I might be on to something. ☺
---
Walked along the Main River for what seemed like an eternity – the sun has finally come out after 10 days of wind & rain. I'm just soaking it in, thinking back to the happy times along this river with myBean, pondering my initial 'tug' to Germany so long ago that happened in this very place.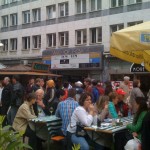 It's Saturday, which means the downtown area is hosting a festival – this time it's a wein & sausage party with wall to wall people. I took a couple of snapshots & enjoyed the feeling of being surrounded while at the same time being anonymous. Enjoyed a glass of the Dornfelder with a few passersby, & listened to the live music coming from a stage setup nearby. We're in Germany, so the band must be playing "Winds of Change," by the Scorpions. I think this just might be the unofficial national anthem of Deutschland
---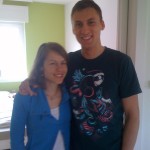 Walked to the Hauptwache (main station) to catch the U-bahn to Alex & Linda's. Caught up with Alex at the WeisserStein station… & drove to their new flat. Alex & Linda are very special to me, & I always love spending time at their home. This time was no exception. After giving me a tour of their new place, the 4 of us (Alex, Linda, & their dog Jonathan,) took a walk in the park next to their home – felt great to stretch our legs & catch up.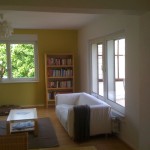 We were all hungry, so we headed home, where I hung out with Alex as he grilled… chicken wings(!) that he had started prepping the day before. Linda brought a great salad, some weissbier, & potato wedges to the table & we spent a couple of hours in conversation. Alex & Linda started a church since I was here last in November, & they are affiliated with the Vineyard movement. I loved hearing their stories of what God is doing in their church, & most exciting to me, with them in their lives as they step out into new areas.
We wrapped up our evening with the most recent episode of the Office, something we always do when I'm here. Shared routines are special too. ☺ It was getting late, so they graciously drove me back to the Dueck's so I could finish packing my bags & prepping for my early afternoon flight tomorrow.