This post will be a sum up of the last 2 days – life has been busy, & it's been very late by the time bedtime comes… so late that I have prioritized sleep & rest over blogging. But tonight, I'll at least give the "sum up" version of what's up so that you can be praying for me.
Day #2 – Independence Day began for me with a great breakfast – lots of coffee & a paleo-friendly plate of food which included cucumbers, carrots, hummus, an egg, & an oven-baked peach sweetened with honey & balsamic. Great stuff.
Even better were the talks over food – I have to say, one of my favorite things is being able to pick up with friends after a couple years worth of life & 'catch up" without missing a beat. Alex & Linda are those kinds of friends, & I am coming away rich & blessed from our conversations.
The time came for me to head to Baden-Baden (Southwest Germany) for my next round of commitments – I bought a train ticket & took an Uber ride to the main staition. My train was delayed for a 1/2 hour, so I had some rodeo burgers from Burger King & then caught the train.
Which was full. To overflowing. Turns out, one of the passenger carts was condemned/closed, so there were more people on the train than seats. Which meant that my place for the entire 90 minute trip was standing in a hallway directly outside the bathroom. With no A/C. And with an extra pungent toilet to boot. It took all of 10 seconds for me to start sweating, & within 10 minutes, I was soaked. I tried to help the problem by fanning myself & using paper towels to wipe away the perspiration. But to no avail. After soaking (I could wring out the towels) my 5th set of 3 towels, I decided, "what the heck," & sweated like a beast for the remainder of the ride. The arrival in Baden-Baden was celebrated with great joy.
---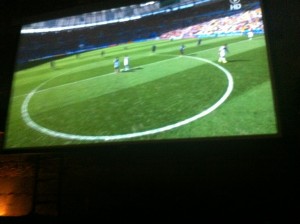 Julia picked me up & took me to her family's home in Achern, about 20 minutes away. I quickly cooled down & caught up with my adopted German daughter. On the way, I found out that the plans for the night included watching the Germany/France World Cup match with a crowd of people. Boom!.  After freshening up, Julia & I headed to the home where we would watch the soccer game – it was broadcast on a big screen about 8×10 feet, in a room with about 30 people in it. And it was hot.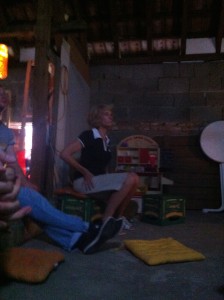 And the best part was the people watching. Everyone, ladies included, are hard core fans. The lady in the picture looks sweet & kind & self-controlled. And she was. Until Germany was close to scoring. Then, she would jump & scream at the screen along with everyone else. It was beautiful, & would make the most ardent SEC Football fan proud.
SIDE NOTE: I'm really proud of myself too – I was able to sneak a photo without even looking. I may even be able to take a selfie at some point. But I won't. Because, hey, guys shouldn't take selfies.
After Germany's victory, we ended the day with pizza & I headed to my room to FaceTime theBean & then head to sleep. Waaaaaay too late, especially knowing I had a 7 a.m. wakeup call the next day.
---
Day #3 – I woke up right before my alarm & decided to FaceTime my girlfriend. Because I can. Personal connections, even for a few moments, make the weeks apart more bearable. Julia's mom is an incredible hostess, & prepared a great German breakfast – kaffee, rolls, jam, meats & cheeses. The best. Benny, my ride to today's pastor's meeting showed up way too soon, & I had to leave to make the 2 hour trek to Engstingen (near Stuttgart.)
The weather was rainy & overcast – which meant a well – needed respite from the hot. We arrived at the pastor's meeting, & there were about 9 churches represented, & approximately 25 people in total. The program for the day included food (yes) plenty of coffee (double yes) & discussions led by my good friend Tim Clark (triple yes.) He talked from Exodus 3 on the calling of Moses… he'd intended to develop the idea of "Pastor Moses" but we never got beyond the calling. Our meeting developed into a Q&A session, with many people weighing in & speaking "real-talk" from their hearts. We finished about 4 hours later with prayer for each other. It was a divinely appointed time that was very impactful for all involved. I am blessed beyond words to have been with the men & women living & serving on the front lines of the church in Germany. They are true heroes of the faith – living faithful, obedient lives in the face of great opposition. These are Hebrews 11 people.
---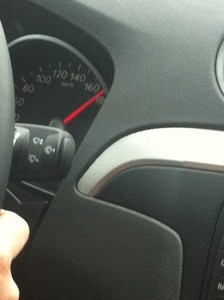 I ate too much blackforest cake at the meeting, so I got a little car sick on the way back to Baden-Baden. It wasn't that we were traveling at 110 mph. (170 kmh) Truly. I managed not to barf in the back seat, & we arrived back in Baden-Baden just in time for Julia's mom's chili. And I was feeling better. So yay for me.
We ended up spending the rest of the evening (about 5 hours) eating & hanging out on the back porch. Talking about important things: theology, asking questions, joking, & sharing meaning of life interactions. Klaus & Pia, Julia's parents, have blessed me so much in the short time I've been here. Can't wait for the next 2 days of fun, laughter, & great, great talks.
I finally stole away to write this at about midnight. Klaus & I have been watching the Belgium/Costa Rica World Cup match out of the corner of our eye, & as of now, there is still no winner. No matter. I will wake up tomorrow & know. And then Tuesday, there is a late-night fest at a friend's home to watch Brazil/Deutschland. It starts at 10 p.m. local time, so we will be up LATE.
Tomorrow is church – Tim is speaking, & I don't have an explicit assignment, which means I get to show up & talk to people. Easy peezy. I love this place. I aim to blog again tomorrow – please know, if I wrote down everything that happened in the last 2 days, it would fill more books than you would want to read. But these are the highlights. And I am a thankful & blessed man. And one of the best parts of life is sharing it with brothers & sisters in Christ from Germany.
Please pray for me as you think of it. Many blessings & much love to you!