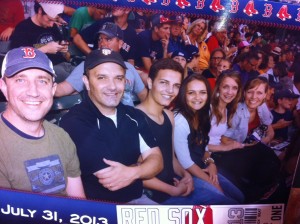 I never thought I would have the opportunity to go to Fenway Park… Boston is on the other side of the country, a mere 2,888.2 miles (by car) from where I live. And then some dear friends moved there to take the pastorate of a church just outside the city… & then there was a hope that somehow, someway, we'd be able to visit them. One day.
One day happened. Jason & Alyse (our theWeez' namesake) invited theBean & I to come be with them, their family & church for a week in early August. And, Jason said, if we came then, the Red Sox were in town. BOOM! It took me about 3 seconds to consider the invite & we accepted. It was a fantastic trip.
There were a lot of highlights from our time there – here's a few:
walking the streets of downtown Boston in beautiful weather
visiting the park known as Boston Common, a place that I saw the whitest human beings in the history of the world attempting to add color to their skin through exposure to the Glowing Orb, which evidently doesn't make many appearances in the great Northeast
watching theWeez & iDoey ride the trains like pros.
dining at the fabulous Regina's Pizza in the North End
spending precious time with theAge & Sandra Nell, & getting to check out their new place
entering Fenway Park from the crowded street lined with vendors, getting a little weepy at the realization of a dream I've had since I was 10.
trying to squeeze into the oh-so-small bleacher seats in right field.
the anticipation of the space between the top & bottom of the 8th inning – its the time Fenway faithful erupt in a Boston rendition of the Neil Diamond classic, "Sweet Caroline."
Singing "Sweet Caroline," & catching the experience on video. It was SO GOOD, SO GOOD, SO GOOD!
Hanging out, doing nothing at our friends' house in the forest.
Touring the Sam Adams brewery with theAge & Sandra… (it's free, & if you go, you will enjoy it.)
Getting the opportunity to spend an intensive 3 day period with another church family… & rediscovering the commonality & bond that we have because of Christ.
hearing one of the people who attended the conference we spoke at tell us that the speech that evening was "Wicked Awesome!"
Happy sigh.
---
Our time invested in family, friends, & fun stands in stark contrast to a big section of the life I have lived up to this point. I haven't vacationed much, relaxed much, let down much. Instead, I work. Study. Pour myself into my tasks. Something in my brain tells me that this is how life is supposed to go, working & producing, & yet I have found that in doing so, I have robbed my family of time that would have been better spent doing nothing. Somewhere fun. Something simple, time away, not working, being together. I have lived a portion of life Upside-down.
Rather than bemoan the messed up priorities & practices of days passed, I'm making changes – turning life right side up. Saying a resounding "No" to the voices & inner clock that drives to dominate my mind, & saying "Yes" to the things that matter. To the pursuit of abundant life, life in all of its fullness. To the taking on of the yoke of Christ, the One who promises rest & restoration of our souls.
It's not too late.
And as long as I have breath, I will continue this pursuit.