A few months ago, I felt impressed to amp up (increase, broaden, deepen, expand) my Bible reading. I started adding 'reading breaks' of a few minutes several times during the work day, times when I might normally be checking my email, or practicing my vuvuzela… & then followed up each reading with reflection. Thinking on what I'd read. Asking the Holy Spirit to apply it to my life. To seek out all the places in my heart, mind, & life that need a touch from Him. To transform mindsets, attitudes, & behaviors that subtly (or not so subtly) stand against, resist, or even oppose God's purposes for me.
And I'm seeing LIFE. I'm getting woken up before 5, no alarm necessary. Waking up feeling rested & restored, excited to take on the day, looking forward to my reading & reflecting. Looking for opportunities to interact with others about the stuff that God is stirring up in me. Feeling a renewed love & hunger for the Word.
---
Reading through Isaiah 25 this morning – a prophetic passage talking about the end times. These chapters of Isaiah have a definite Revelation feel & sound to them, with familiar themes like the fall of the nations that have resisted/opposed God's redemption; judgment; the fall of Babylon; perseverance; salvation.
A section of Chapter 25 really jumps out at me:
On this mountain the LORD of hosts will make for all peoples a feast of rich food, a feast of well-aged wine, of rich food full of marrow, of aged wine well refined. And He will swallow up on this mountain the covering that is cast over all peoples, the veil that is spread over all nations. He will swallow up death forever; & the Lord GOD will wipe away tears from all faces, & the reproach of His people he will take away from all the earth, for the LORD has spoken. And it will be said on that day, "Behold, this is our God for whom we have waited; Let us rejoice & be glad in His salvation. Isaiah 25:6-9 ESV
Very cool – God throws a feast to celebrate, with the best meats & wines, specially chosen & prepared by Him! And the recognition that this is God's favor, His salvation come to humanity, to those who waited for Him.
Reminds me of the passage in Isaiah 40 that talks about 'waiting on the LORD' – & that those that wait on the LORD will renew their strength… And that waiting isn't passive inactivity (like sitting in the waiting room of a doctor's office.) No, its consistent, active obedience to the things I know to be doing. The confident expectation that God is at work, will be at work, & is acting on my behalf. Sweet.
---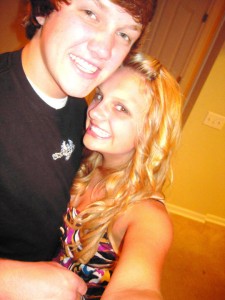 Pasty has been in Cookeville, Tennessee with Alex & her family since 7/1. Kind of a senior trip, complete with a houseboat trip & a Florida vacation – before he comes back & starts college in the fall. He'll be back 7/26. And I miss him this morning.
TheWeez is at Middle School Camp in Sonora, meaning theBean & I are down to 1 kid – IDoey. He's got summer weights & football every day, so life for him revolves around sleeping, playing, & eating whatever he can get his hands on.
Last night before bed, he came to tell us goodnight. He grabbed both theBean & I & said, "Family hug!" He looked at both of us while he hugged us & exclaimed, "Isn't this great!?"
I'm pretty sure IDoey enjoys the life of an only child.
---
For some reason I was thinking yesterday about the Christmas song "Away In A Manger"… there's a part of the song that says:
the cattle are lowing/the baby He wakes/but little Lord Jesus/no crying He makes
That never made any sense to me – the cows are making a bunch of noise & wake up the baby… but the baby doesn't cry. Of COURSE the baby cries. That's what babies do when they get woken up, especially by cows.
I think we like the idea of a baby that isn't like other babies; one that doesn't cry when woken up suddenly… in the same way we like the idea of Jesus being a man that wasn't like other men – who wasn't subject to the same feelings, thoughts, temptations & frailties that we are, yet who persevered through them to be obedient to the call on His life to be Redeemer & Saviour to the world.
I think we're uncomfortable with Jesus' humanity.
---
NEWSFLASH! U2 has published the dates for their rescheduled North American tour. June 7, 2011. Oakland.