Spent the last several "Sunday Family Movie Nights" watching the LOTR (Lord of the Rings for the uninitiated,) & during the "Fellowship of the Ring," I was hit by an epiphany: the hill directly across the street from my front door needs a "Hobbit Door." Granted, in a perfect world, I would create an entire hobbit lair, but I can't do that, for a plethora of reasons. A door, however, would most likely be a pretty easy install, & though it would go NOWHERE, you could imagine.
I mentioned it to theBean, & she wasn't a fan. For some reason.
And then a backhoe showed up in front of my house. Obviously, I took this as a sign that God wanted me to have the Backhoe Guy dig a hole in the hill, & have a few handy friends come over to shore up the hill & 'install' a hobbit door. I could see the unveiling over next couple of months, complete with grass, flowers, a hobbit mailbox, & other accessories that I know that the neighbors (& of course city officials) would be very appreciative of.
As I was dreaming of all the upcoming construction, & mentally thanking the LORD for His providence at sending Backhoe Guy to my front porch, Backhoe Guy drove the backhoe up the hill to work on an install of some drainage pipe.
Noooo. Come back, says me.
It could still happen. I'm dreaming.
---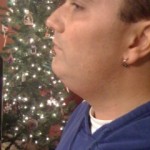 I have spent the last 10 days recovering from the flu – it was by far the 'worst' sickness I've endured in the last 20 years, as if there could be a 'good' sickness to have. The most troubling part of this sickness involved a renegade lymph node that swelled to the size of Kentucky. It was round, hard as a rock, & oh-so-conspicuous on the underside of my jaw, strategically placed on the left side. It was huge. TheWeez kindly said I resembled the dad from "Family Guy." Though it has diminished in size due to prayer, antibiotics, & anti-inflammatories, I shall remember this little bundle of joy for all time.
---
As of Sunday, I am officially done with my first year (of two) of school in the pursuit of my Master's degree. The year I've just completed is marked by a 4-week break from any real school activities. And there is great rejoicing!
---
Just about every day, in addition to my 'regular' Bible reading, I read the Psalms. My 'way' of reading them is to take whatever the date is today (the 20th,) & read Psalm 20, then add 30 & read Psalm 50, 80, 110, & 140. By doing this, I will have read through all 150 of the Psalms in a month.
A few weeks ago, I was given the Kathleen Norris book "The Cloister Walk" – I'd encourage you to check it out – & though it wasn't something she recommended in the book, I felt compelled to return to reading my Psalms like I normally do, except OUT LOUD. One of the things I immediately noticed is the significant shift that happens when I have to slow down in order to speak each word, each phrase the psalmist has written. I find that I'm hanging on the words more, as though they are not just the words I'm reading, but are part of a prayer I'm praying, joining in with the church that has been praying these same psalms for thousands of years.
I am comforted by the humanity of the words, the acknowledgement of the suffering, need, and pain of the human condition, especially with how all of that is submitted to the glory & greatness of God. No whining. No complaining. No "woe is me" stands up to the fact that He is with me. He gives me peace, life, power, freedom, encouragement, and strength. And as I read, I sense the bedrock surety that is built in a life that depends on God & His Word.
Life is good. God is better.
---
I'm looking forward to 2012…