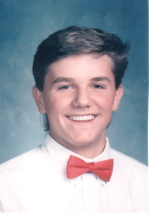 Today would be my brother Johnny's 40th birthday. 40. How time has flown since I last saw him at 17 & death separated us for a breath as long as the rest of my lifetime here on the earth. The picture you see is his sophomore class pic from Carson High, 1988. He took my red-bow tie for the day – my PeeWee Herman costume bow-tie. And he rocked it, as usual, with a sense of style that would have made Elvis Presley jealous.
I've been celebrating Johnny's life in a special way today – through the music he loved. Johnny was one of the first people I knew to create mix-tapes (remember, this was the 80s). He painstakingly would take tracks off of CD's & other audio tapes, & put them on his own high quality audio tapes for me, then create a custom playlist to serve as the tape/CD liner so I would know what was coming. I took it for granted that this is normal – this is just what one does with ones free time.
---
Thank the Lord for Spotify – Johnny would have loved it. All the joy of a mixtape at the click of a keyboard. I recreated several of the playlists he made for me with his favorite artists to serve as a soundtrack for the otherwise mundane activities of my day.
It's amazing to me how music, a song has the power to stir memory – to vividly recall glimpses, faces, events, & remembrances from long ago. More than once I found myself wishing for windshield wipers on my eyes so I could see my computer screen – only to hit "repeat' on a song because of the sweetness of the memory attached to it.
---
Time doesn't heal all wounds. And at the same time, this wound is not infected. I know my brother is experiencing the presence of God in a way that is my own hope & dream. And at the same time, there is a family here that is like a tree with a missing limb – a tree that has recovered, but that is forever scarred by the loss of a vital branch.
Though he's been gone for almost 23 years, I see Johnny everywhere. I look at my family of origin – my parents – still loving Jesus & each other, committed for the long term to be people who intentionally look for the dancing after the mourning, to be living life fully in the here & now, with a firm grasp that this Here & Now is but a glimpse of the Real Life that is to come.
Joel (Moe) is married to Jenny – with 2 great little ones (both boys) under the age of 4 – T-Bone & TyBone (my names for them that I only whisper because they have real life grown up man names that will fit them well when they step into adulthood.) So proud of Moe & his fam – & the compassionate excellence with which he/they live their lives. Moe is world class in his work, but even moreso as a man.
Ben (Benny, CTC) is married to Jessica – & has 3 little ones (2 girls & a boy) under the age of 6. The kids reflect their parents' joie d'vivre, & Ben reminds me of Johnny's funny side – a side that often manifested with wit & with a discontent for the status quo (if that makes sense.) Proud of Ben & the fam. Happy that their pursuing their dreams.
---
MytheBean & I dated for about 6 months before Johnny was diagnosed with cancer – so she knew him well, both before & after, something I appreciate more with the passing of time as she holds me in the times when tears overwhelm & laughs with me other times of recalling the LIFE with which he lived. The gentle, humble, fierce strength which which you live each day, mytheBean, is a reminder of how fortunate I am that Jedi mind tricks work & you committed yourself to me so many years ago.
Then there's my kids. Pasty, (actually his uncle's namesake,) one of the whitest kids you'll ever see, with the rosiest cheeks in the world. Sometimes just looking at his resemblance to my brother catches my breath. My Pasty.
iDoey – no longer a kid, now a man. His personality & "Never give up, never surrender" attitude, determination, & fierce loyalty most closely mirrors that of the uncle he never knew. Time & time again, theBean has asked me how I can so accurately predict what iDoey will say/do/respond in a certain situation, & I have to answer – "I grew up with this." And I smile.
TheWeez – Johnny would have been amazed that I could have such a beautiful daughter & would most definitely (& correctly) have attributed it to her mother. He would have doted on theWeez – & I see him in her eyes when they flash, & when she speaks her mind, standing for truth, justice, mercy & life in her interactions with the world.
Something else that stands out to me is that running through our family is a trait of perseverance, hard work, a "never give up" push in the face of adversity, no matter what. We have what Eugene Peterson refers to as the "ability to engage in a long obedience in the same direction." I have to believe it goes beyond human genetics & is a part of the spiritual DNA passed down to us from generation to generation of Christ-followers, that we would be people who, in spite of our many failings, human frailty, & other weaknesses, carry a relentless commitment to love Christ & love others. The longer I live on this planet & the more I experience the temporal nature of this life & the fleeting, often unpredictable nature of human relationships, the more I appreciate this & desire to embrace it as a part of my own character & hopefully, what is left in the wake of my life.
Happy birthday Johnny – see you soonish. Save me a spot at the dinner table. I get the corner.