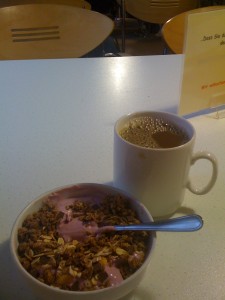 Today was the last day of the conference, which I started off with my traditional "Youth Hostel" breakfast of coffee, cherry quark & chocolate mueslix. Ahh. I will miss this.  We gathered for worship & then Jan taught on the declaration of the gospel (good news, God's message,) from the book of Jonah. He talked about the selfishness & self-focus of Jonah, who didn't want to declare the message given to him for the Ninevites. What really jumped out at me was the need for faithfulness & perseverance in the life of Christ-followers in living & speaking the gospel… & not just to those people for whom it is convenient/preferred for us to interact with.
The conference time closed with the "blessing of breaking of bread" – not communion, but a time where each person takes a piece of bread (the good, dark, dense German bread,) & goes to another person to pray a blessings over them.
I felt prompted to pray with Ryan, a guy from Connecticut by way of Newburgh, New York. He & his wife Rebecca are attending this conference in the final stages of praying about moving to Germany to serve in the Gau Algesheim church. It sounds like if they're able to get jobs, they will relocate in January 2011. My heart is totally full, & I felt very encouraged to hear Ryan & Rebecca's story – their heart for Germany & the German people, their desire to give their lives away here. I told them that they were answers to prayer: prayers that I (& I know others) prayed, asking God to send workers to serve in Germany… talked to them a little about the 6 pastors' conferences that I've been to, praying & looking for ways to encourage, help, support, & 'cheer on' the pastors & leaders. I can remember at our first conference in November 2005 sitting in my room with Joni, praying for workers for the harvest. Ryan told me that it was 6 years ago that he & Rebecca, out of the blue, felt a pull & a stirring towards Germany. They'd never really had any inclination that way before, but in 2005 it started. Hmm.
I wept.
Prayed for favor, acceptance, & provision for them. That the LORD would bind the 2 of them together & pour them out (kinda like a never-ending pitcher of cool refreshing water pouring into the glasses of thirsty people…)
A couple of people prayed for & blessed me too.
Lunchtime was the final event before everyone piled into their cars (or onto the trains) & headed towards home. Eddy & I gave a ride to Rene (TPLF's youth pastor, ) & to Stefan (the youth pastor of ICHTHYS church in Frankfurt, the church that TPLF was planted out of.)  I love youth pastors. And these 2 guys are good ones who love youth & love their city.
---
It has been absolutely POURING this afternoon – with the kind of cold that chills you to the bone. Laura made a "challah" & some coffee, & we all sat down, (along with a neighbor of theirs,) for hot drinks on a cold afternoon. Of course, it was at that point that I started yawning my face off, & excused myself to take a nap. I've got a 'getaway' planned late this evening (about 9 p.m.) with Martin & Sandra to catch up with them, & to check out one of Sandra's favorite wine shops. Don't know how late we'll be out, & I've been to bed late & up early for the last few days, so squeezing in a nap seemed like a good idea.
---
I woke up to the 6 p.m. bells from the Catholic church across the street – though they're loud, they're also cheerful, welcoming, & they bring me joy. For reals. Once my brain clicks on, I will definitely see if it's stopped raining long enough to get out & stretch my legs with a brisk walk around the block.
My upcoming schedule:
Tomorrow, Thursday is a 'free' day for the most part, which means studying for my "Foursquare Friends Day" in Engstingen, with Juergen & Guedrun Zeeh. I do have a lunch appointment with Tobias (who Matty stayed with last year,) so that will be fun.
Friday is a 'rest' day; I'll be traveling to Engstingen via train about 4 p.m. & will spend the evening there with a planned celebration with lots of people from their church, as well as good food & drink. I'm greatly looking forward to it; it'll be my first time there.
Saturday is "Friends Day," a celebration at the Shelter Alb Foursquare Church – followed by lunch. In the later afternoon, I'm on another train to Baden-Baden to see Yoooooooouuuuuullllleeeeeeeeee-AHHHHHH! & her family. Good times WILL be had by all.
Sunday morning, I'll be speaking at Julia's church (the Arche Ottersweier, pastored by Roland & Manu Lorenz) then spending the afternoon with family & food. Did I mention food?
Monday, Julia & I will take a train towards Frankfurt; I get to stop off & meet (for lunch!) with Jan, the pastor of the enChristo Church in Mainz. He's also the Foursquare Deutschland national leader, & I'm looking forward to talking & planning with him.
Finally, it's back on the train to Frankfurt!

---

I'm not sure what my internet connection situation will be starting Friday afternoon, but at the very least, I will be blogging & posting upon my return to Frankfurt on Monday. Blessings to you, & thank you for your prayers.