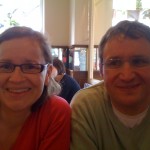 I'm sitting at the desk in the office/guest room of Eddy & Laura, my home for the next 8 or so days that I'm in Frankfurt. The sounds of Tchaikovsky's "1812 Overture," (check out it HERE) are ringing in my ears, accompanying the pealing of the bells of the beautiful Catholic church across the street. Just finished my studies for the speech I'll be giving tomorrow as a part of the TPLF Sunday morning gathering. What an incredible day I've had.
---
I was so tired last night that I staggered into bed after homemade pizza & a couple episodes of Veggie Tales with the family. TheBean & I texted back & forth a bit, then I fell into unconscious slumber around 9:30 my time (if my last text was any indicator of an accurate time.) Woke up this morning at 8:30, feeling very refreshed. Thanks to Eddy, I had some great coffee & set about to try & blog, only to find that my site was temporarily down. No matter. Emails & my 4 fantasy baseball teams beckoned for attention.
I was excited – my dear friends Martin & Sandra were coming to pick me up & take me to breakfast… last November, I was hoping to see them, but due to some illnesses, it didn't work out. With eager anticipation I waited… & when they arrived, I could barely contain myself for all the joy I felt at this reunion!
We walked the short walk to the cafe, dodging rain drops & catching up on the events & happenings of the recent past. It seemed like only a few moments before we were darting into the cafe next to the White Tower (no, LOTR nerd – not Saruman's tower, the Bockenheim Tower.) Turns out it was a 10Euro, all you can eat breakfast from 8 a.m. – 2 p.m. And can I get a "BOOYAH!" Goodness.
All of my favorite things were there – quark, blueberry & peach yogurt, fresh fruit, croissants, bacon & eggs, you name it. Sigh. We ate. And talked. And ate some more.
What fun to catch up talking – German & American politics; music (Sandra is a Dr. of Musicology with her very own Ph.D to boot,) food, families, church, forgiveness, marriage, parenting, & the list goes on.
Finally, we wrapped up our feasting, & decided to take a walk to try to cope with the copious amounts of food consumed. Went through various parks & small gardens, seamlessly navigating from topic to topic, one moment laughing hysterically, the next on the brink of tears. It was Awesome with a capital A.
Too soon, the morning came to a close as they dropped me back at La Casa de Dueck. Eddy & I spent some significant time discussing our ideas for the Sunday speech; I really wanted to hear what his heart is for me to communicate in TPLF. We had "coffee & snack time," which only augmented the back & forth.
Eddy left me to finish my studies, & the family headed out into the garden (backyard) to play – the sounds of their laughing & fun brought a great deal of joy to me. I especially love hearing 2 year old Max call his brother Elliott by name. He says it with a lilting, "EllioTTT!" that always reminds me of the movie E.T. Truly good times.
Dinner is happening any minute. I'm savoring today, both the memories made, & those to come.