I arrived in Mainz about 7 p.m. as the preparations for the BBQ were beginning in earnest. It's a bit surreal to be witness to the hustle & bustle of activity precipitating a church event, but not being a part of the actual "hustling…" Loved the energy.
Jan arrived & he, Eddy, & I spent some time talking, catching up, & making sure our calendars were synced – Eddy was on staff with Jan for several years as his associate, his right hand man. It's an interesting dynamic between them, in that there is a lot of history & 'being known' that is obvious, as well as a deep love & mutual respect.
After Eddy left to head back to Frankfurt, (Tuesdays are "Date Night" for the Dueck's, no easy feat considering they have 3 boys under the age of 6,) I talked with several of the people that had arrived, a couple of whom I have known (or at least met,) through the November Pastors' conference I have attended for the last several years. The question of the evening, esp. with those that I hadn't met before, was:
Why do you come to Germany?
Jan had told me that he wanted me to address the group on this topic later, so each time I answered the query with, "I will tell you later. " And a smile.
My attendance at the BBQ was a bit of a surprise for some – they didn't know I'd be there. This dinner gathering was a regularly scheduled get-together for the pastoral staff & ministry leads (childrens' ministry, administration, hospitality, small groups, etc.) An intimate group of about 15 of us gathered outside on a patio with a U-shaped table configuration to maximize interaction. It was a pot-luck in the best sense of the word, as several great salads, meat selections, & desserts were provided by the people in attendance. The majority of our time involved interacting under the stars in the cool evening, talking, laughing, & enjoying each others company & a good Portuguese rotwein. It reminded me a lot of hanging out with my church family. :)
After about 90 minutes or so, Jan asked if I would tell the gathered group a little bit about me, & also tell WHY I was there… around the tables there was a general anticipation, as those who'd wanted that question answered earlier were FINALLY getting their wish.
I talked about my first trip to Germany, an accidental one. The friendship that developed with my friend Johannes. The discussions about the practicality & process of missions. My trip down the river Main, & how God used the simple invitation, "Come to Germany," to sear a deep, lasting, committed love for the country, people, & pastors in Germany. Our attempts to move to Germany in 2/99. Beginning pastoring Hillside. The reestablishment of relationship with Johannes & Germany. Mission trips to Frankfurt that resulted in the budding "sister-church" relationship Hillside has with TPLF. The commitment to go to the German pastors' conference each November, to get to know pastors for the purpose of supporting, praying for, & encouraging them in their endeavors. You can read more about that HERE & HERE & HERE & also HERE if you're interested
After I finished talking, Jan had me field some questions… a few I remember:
-what is your long-term vision for Germany?
-What do you think the German church needs?
-Does your church support you (believe in you) coming to Germany?
-Do you really pray for us?
As in any group of close friends, the talks gradually broke into small pockets of conversation, & Jan & I had the opportunity to just sit & soak in the brisk night, observing the people, & conversing ourselves about hobbies, exercise, kettlebells, (Jan was very interested in this, & even asked me to demonstrate several kettlebell exercises & techniques… which I so gladly busted out, much to the amusement of those who observed my demonstration but hadn't been privy to the discussion leading up to it. Imagine me doing the swing, the figure eight with hold, & the famed "2 hand anyhow…" Good times.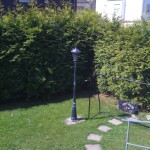 It was close to 11 by the time Jan took me to the home where I'd be staying – words can't begin to describe the thankfulness I felt at not only being prepared for, (which Wolfram & Heidi had done, setting up a great room & space for me, including wifi password & wasser mit koehlensaure,) but also that they were up & answered the door for their late arriving guest.
A quick tour of the home followed, (so I wouldn't stumble around in the dark,) & then a quick phone call to theBean, then to bed for me. The picture at left is the garden (backyard) of the home where I'm staying.
---
I woke to the sound of giggling kids – evidently, having an American staying in Spare Oom is a pretty funny concept for little ones. I quickly shaved & showered, then stumbled out to a German breakfast, complete with strong German coffee. Heidi pulled out all the stops, & I was again so thankful for the love & care shown to me in something as simple as mueslix, yoghurt, the dark German bread, & plenty of coffee. Did I mention the coffee? Mmm.
One of my favorite things about staying in homes is the opportunity to get to hear the 'story' of the hosts; these serendipitous meetings have often resulted in the development of deep & lasting friendships, (ala Martin und Sandra, Alex und Linda, etc…)
---
Today, I'll be having lunch with Jan & discussing the happenings within Foursquare Germany, specifically relating to the churches that I'll be visiting over the next couple of evenings, & also hearing about the recent developments in Foursquare Europe (fresh from the conference that just took place just outside of Valencia, Spain.) Then, this evening, I'm headed to a place in the hills about 30 minutes from Mainz called Taunusstein. I'm looking forward to another great evening.