Woke up early on Sunday & got ready for church – on a whim, I decided to try to FaceTime theBean (it was midnight at home, so I thought my chances of catching her awake were slim to none.) Imagine my surprise when she answered on the first ring. There's nothing in the world like the sound & sight of myOne. Our brief connection made the rest of the day seem doable.
---
After a quick breakfast, we headed out to church. Actually, it was to a regional church service – every 8 weeks or so, the 5 Foursquare churches in the area get together for a joint service. On a rotational basis, each church takes part of the responsibility for elements of the service (kids ministries, hospitality, worship, announcements, preaching/teaching, etc.) The reason behind the get-together is two-fold:
Fellowship & relationship building – there aren't many Christians in Germany, so opportunities for getting together with other Christians are rare. The kind of encouragement & 'life boost' that comes from these get-togethers is huge.
Many of the "free" (non-Catholic/Lutheran) churches in Germany are small – 40 people & under. Partnering with other churches allows them to share resources & do more than they could do if they were organizing a gathering on their own. It's a cool picture of parts of the body of Christ functioning well for the benefit & growth of the whole body. It really makes the self-focused, "doing church my way for my church's benefit" that is emerging in the Western Church seem pretty silly, petty, & shallow.
Tim spoke on the 3 marks of a disciple from Mark 3 – emphasizing that disciples have 1) been with Jesus; 2) been sent by Jesus; 3) have lives marked by the power of God as evidenced by declaration of the gospel & overthrow of the kingdom of darkness. He did a great job bringing things into a context that made sense regardless of our nation of origin/language. Made me proud, & I'm loving watching he & his wife Deborah fall in love with the people, church, & nation of Deutschland.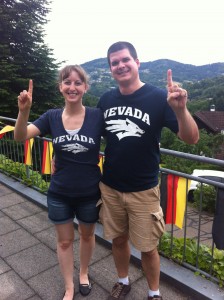 I was whisked away right after church to the house of Julia's sister, Linda, & her husband Heiko. I haven't seen them since right before they were married a couple years back, so I really looked forward to catching up with them. They spent the morning prepping a BBQ for us – & goodness, it was tasty. We ate steaks, white sausage, tater salad – German style, cucumber salad, & a kind of meat that came from France that no one really translated. It was French, but even so, it was palatable. Here's a picture of Heiko & Julia, representing Nevada & the Wolf Pack, surrounded by German flags. I had to tell them to put their index fingers up to make "#1" – because in Germany/most of the rest of the world, they start counting numbers with the thumb being #1. They were happy to look like 'real Americans."
---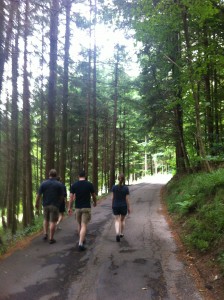 We'd barely finished lunch when Linda decided to take us on a brief walk through the forest near their home, overlooking a green, tree-filled valley. Didn't walk too fast – didn't want to hurl. It was a beautiful, refreshing walk through the trees – except for the 50 meter section where the midges showed up in force. Mr. Frodo, I feel your pain. I ended up with several bites on my right leg – evidently that one is much tastier than the left.
---
Unfortunately, I had to leave early from the family dinner to head out. Julia drove me to meet Jochen (the regional leader) & Tim & their families for a dinner in a local biergarten in the village of Ulm. Think Great Basin-Sparks outside sitting area x3 & covered with a well-trimmed & lush grass patio blanket, surrounded by 30 foot tall trees. It was nice. Over the pub-brewed beer, we discussed Foursquare, both the US & Deutsch churches, & went back & forth asking/answering questions… there were a few times as we talked that I could see that some of the political/bureaucratic activities that unfortuntely happen as denominations get larger really struck a nerve, & gave me new & fresh eyes to reconsider what has been our (US) normal for church life.
For the most part, we schemed different ways for an interchange to take place between the US & German churches… & have a couple potential dates on the calendar for next year. We're meeting to firm them up over dinner tonight.
---
Got back to the house of Kern in time for a snack – salami, cheeze, pretzel bread, & some vino from a local vintner. One of my highlights from this trip has been time around the tables, both in the kitchen & on the patio, with the Kern family: Klaus, Pia, & dear Julia. They've taken great measures to 'stop life" & make the days I'm here very, very special. Words are inadequate to describe the special, special gift that this has been to me, & I am very, very thankful for this 'chosen family' who have become some of 'my people" on the other side of the world.
---
The storm hit about 10 p.m. Rain. Thunder & lightning. Wind. Reports of a tornado touchdown in nearby Rammstein. It was hot, humid & loud. Made it very, very hard to sleep. I guess I eventually drifted off around 2:30 a.m., as my last iMessage to theBean was at about 2.
---
Woke up on Day 5 (4.5 for blog purposes) with a start at 8. FaceTimed theBean again as she was off to bed. Weirdness to be starting & ending our days at exactly opposite times. Winding down while the other is winding up. But the 9 hour time difference is cool too, as it provides a great communication window. This morning, I wished I was home getting ready for sleep in my own bed. And I would have turned on the air. TheBean told me she turned the air off upstairs because she likes to be warm. Evidently, 90 degrees in our room is just about right. No exaggeration, no kidding. That girl.
---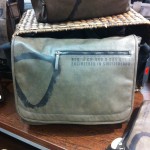 My man bag has died. I bought it 7 years ago in Frankfurt, & it has survived travels all over the world, carrying my lappy, journal, notebook & all my other 'go-tos'. It has holes in the sides & bottom, & it no longer zips. Therefore, I decided to replace it – Julia took me shopping a couple of places until I picked out the newby. Here it is.
Found out that the store we were shopping in had a familiar name, so I decided to get a pic of the sign with Julia in it.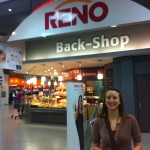 A successful shopping trip deserves a reward, so Julia & I drove a whole 7 minutes to get out of town & go to McDonalds. It was an experiment really – I wanted to see if the beef in the McDonalds burgers tastes the same as it does at home. Got a McDouble w/extra ketchup. Turns out, they taste totally different. It might be that they use Australian beef here like they do in Eastern Europe. Not sure, but the burger tasted… beefier? More real? Its not like I eat at McDonalds at home very often; more like 2 or 3 times a year. Maybe it was because I was a hungry elf & anything would taste good. It was time well-spent.
---
Picked up a couple of gifts & then headed to the house to study a bit for next Sunday (I'm preaching in Mainz, Germany at the church of Jan von Wille, a pastor & the national leader of Foursquare Deutschland. I'm doing a variation on the last message I preached at home: We Are On A Mission From God, text John 20:19-22. For the last hour or so, Julia & I have been sitting at the table, not talking, working on our laptops. She's my kind of people, & I'm so thankful for this wonderful adopted German daughter. Love being her Ami-Papi (the name she gave me, means "American Dad.") I'll finish my Monday blog sometime tonight or tomorrow morning, after I live it. :)
I close this blog before I head to take a nap with a picture of the old Man-Bag next to the new one. Distinctly heard the old one say to the new one, "Carry on."