DAY 4 –
Sunday began early with homemade biscuits & coffee. The biscuits were melt in your mouth flaky, & tasted absolutely heavenly coupled with Oma's (grandma's) apple marmalade. Goodness. I could get used to those.
Eddy & I headed over to the church for early morning prayer & fellowship – it was great to be able to see many familiar faces, but even better to see how many there were that I didn't recognize… it's a great thing to come back to TPLF after a 6 month break & see a living, growing, vibrant group of people gathered to grow in Christ. It's a testimony to a good pastor & also to a people that are dedicated to reaching their friends, neighbors, & co-workers.
We worshiped, celebrated communion, & had some "good news" (testimonies) about what God is doing in peoples' lives. It was a lot like being at Hillside, minus the comedy routine that theBean, Ben, & company usually do during the announcements. :)
I spoke on Philippians 3:17-4:1 – Paul's call to the church to follow him (& others living like him) in their pursuit of growing in Christ, & in pressing on to the goal of maturity & fullness in Christ (Philippians 3:12-16 talks about that.) I was translated by Steve G (a native of England) & was thankful for his skill & flexibility to 'enter into" the message with me as co-preacher. Cause it doesn't matter what I say in English (or American – according to Steve, I speak American, which is definitely NOT the Queen's English.)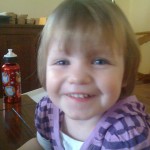 After church & more fellowship, I was invited to a restaurant with Sam Clayton (& my goddaughter, Rebecca!) & Petra Lindner… We ended up going to "Koriander" – & ended up with… more pizza. (That makes 4 days in a row.) Initially, we were going to get Turkish doener, but the restaurant was too full. So pepperoni pizza (with pineapple) it was. Fortunately, its so different than pizza at home I'm not tired of it. Yet. Also, we ran into Martin & Sandra Mueller-Berg & I got a chance to firm up some plans to meet with them before the week was through.
Rested for a while at home, then Eddy, Steve, & I headed over to pick up Rene (the youth pastor) so we could head out to the Pastors' conference. Its being held in a place about 20 minutes out of Frankfurt called "Bad Homburg" – got checked in & took the opportunity to greet people I knew as they trickled in from all over Germany. Had some great fun catching up with some people that I hadn't seen in years, & also with Melanie, who was with us (& the Meredith's) in Reno just a few weeks ago.
---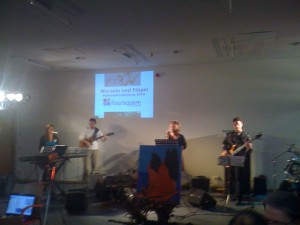 I enjoyed the enthusiastic worship time (with Melanie's team from Mainz – she's on keyboard in the picture) & then Jan (pastor from Mainz & the National Leader of Foursquare Deutschland,) took the time to invite all the people to come up who were attending the conference for the first time (one of my favorite things.)
Eddy was the speaker for the 1st night – talked from Philippians 2. What stood out to me was one line from an encounter with the LORD that he'd had: "I've already given you everything you need to do what I've called you to do. You are enough." It made me think about home & Hillside – & the temptation that we can have to covet – the things (people, resources, etc.) that we don't have &/or we think we need… You know what I mean, the "if only I had…" I felt very reassured in the "you are enough."
Afterwards, we made our way to the café for a beer & fellowship – truly one of the best times about the conference where friendships begin & are deepened, & the sounds of deep belly laughs permeate the room. I had a chance to talk to a guy that hadn't been at the Revolution seminar the day before, but that had a million questions about learning to rest. It was an awesome night.
We finally dragged off to the car for the ride home about 11:30 p.m., which meant a short night's sleep. After a long weekend, its not the optimum way to kick off a week.
---
DAY 5
I dragged myself out of bed just in time to splash water on my face & get dressed. I must have looked as tired as I felt, because I was greeted over & over with, "Oh. You ok?" Coffee helped.
So did the message. The keynote speaker for the conference is Volker Heitz, a pastor from Bern, & the national leader from Foursquare Switzerland. He spoke this morning on discipleship, & 4 of the main areas he is looking at & looking for in people he's working with inside his church & in the Swiss movement:
S – Servanthood
T – Teachability
A – Accountability
R – Repentance
Volker has spent a lot of time with Daniel Brown, & as Daniel has been very influential in my life, he was speaking my 'language;" I feel that I was able to grasp quickly a lot of the things that was talking about.
If only I could keep my eyes open… I bribed Eddy with promises of undying love & devotion forever if he'd skip the afternoon session with me & take me home so I could take a nap. Fortunately, he also was "toast" & was more than willing to drive me home. As soon as I got in the door, I staggered to my room & crashed.
Next thing, I knew, it was 2 hours later, & I awoke feeling terrific, like a new man. We didn't have to leave for a bit, so I went for a walk in the increasingly brisk early evening. Made my way over to the Penny Market to get some gum to combat the "I feel like licked the sidewalk" taste from my mouth. Mission accomplished.
Got home, & then Eddy & I drove back to the conference, arriving just in time for dinner. I got to sit with Stephen, a pastor from a town in the SE of Germany called Erlangen. TheBean & I sat with him & his wife Sylvia a couple years ago, & I hadn't seen him since. Turns out he'd had a major motorcycle accident & it'd taken about 18 months for his recovery. It was wonderful to catch up with him, but even more to hear him talk about his city, church, & to see the very obvious love he has for both.
There are a couple other Americans at the conference, Ryan & Rebecca, a husband & wife from New York. They're visiting with a church in Gau Algesheim, exploring the possibility of moving to Germany to be a part of what God is doing here. Makes me happy to hear this.
After dinner & before the service, I finally had a bit of free time to write this blog. Ahhh. Feels so relaxing to get the words out & to process through what's in my head as I write.
I'm thankful for the opportunities I've had already to sit, listen, & talk with several people – real, meaningful talks. It reminds me of why I'm here, & makes me feel like the travel, tiredness, difficulties, & missing home is worth it. Hearing how many people/pastors feel lonely & disconnected makes me incredibly thankful for my friends, family, & Hillside church family. I am truly blessed.
This evening, we had an evening of praise & prayer – then hung out in the cafe again until it was deemed sufficiently late (12 midnight) then back to Eddy's. Tomorrow is a new day.