This morning I was reading in the Gospel of John as a part of the SOAP devotional reading plan…
I was in John 6 (NOTE: for those of you also on the SOAP plan, I do realize that John 6 wasn't scheduled to be read until Wednesday, but I couldn't help myself & read ahead.) The context: Jesus has just had a lengthy interchange with the Jews of Judea over His healing of a man at the pool of Bethesda on the Sabbath day; an action that they believed to be in violation of the 4th commandment (Chapter 5.) Chapter 6 tells of Jesus' miraculous feeding of the 5000… & the subsequent response by the people who heard what He'd done. Crowds began to follow Him everywhere… but it wasn't because of what He was saying, teaching, & testifying about. Here's what jumped out at me:
Jesus said, "Truly, truly, I say to you, you seek Me, not because you saw signs, but because you ate of the loaves & were filled. Do not work for the food which perishes, but for the food which endures to eternal life, which the Son of Man will give to you, for on Him the Father, God, has set His seal."

Then they said to Him, "What must we do, to be doing the works of God?" Jesus answered them, "This is the work of God, that you believe in Him whom He has sent." So they said to Him, 'Then what sign do you do, that we may see & believe You? What work do You perform? Our fathers ate manna in the wilderness; as it is written, 'He gave them bread from heaven to eat.' Jesus then said to them, Truly, truly I say to you, it was not Moses who gave you the bread from heaven, but my Father gives you the true bread from heaven. For the Bread of God is He who comes down from heaven & gives life to the world." They said to Him, Sir, give us this bread always."
Several things stand out:
• People will go a long way for free bread
• They want to know what the 'works of God' are
• Jesus challenges them to believe in Him – & that this is the work that God wants from them.
• They ask for a sign to prove Jesus is the Christ – & this is after He's healed the guy at Bethesda, & after He's turned 2 fish & 5 loaves of bread into a meal for a multitude.
What are they really looking for? Another sign? Something sensational?
Takes me back to the Yancey Book I'm currently reading, & the discussions with Chum about signs & wonders. Signs (which point to something, someone, or somewhere) aren't the point – they're just signs, they're not the destination. Those that didn't believe, wouldn't believe even when confronted, repeatedly, with the miraculous. They just asked for more signs.
Signs don't bring about belief. Devotion. Love. They point.
Chewing on this.
---
Sat with the family last night for a Family meeting, our 1st one since we got the band back together last Friday. Pasty's been in Tennessee visiting theGirl, & iDoey & theWeez have been at High-School camp. It was a 'meaning of life' discussion, with lots of laughter, tears, & soul-baring. Makes me want to be a better man. Husband. Father.
---
Watched The Village last night with the fam… a couple members of the fam have shied away from this one in the belief that it was a scary movie… to me, this is 1st & foremost a love story (just like the X-Files is a love story… but I digress.)
After watching it, all members of the fam agreed (albeit reluctantly,) that the movie really is a love story, (though theBean threw in the caveat, "Its is a really great love story, but it sucks because they use fear & lies to keep the people in a world of farce.) Booyah!
---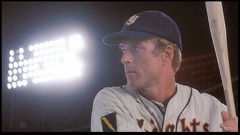 And iDoey watched The Natural. I was able to catch the last 40 minutes with him. Man. Every time I watch the ending, I'm reminded of the beauty & perfection of the game of baseball.
Makes me want to watch the whole thing a couple of times, followed by Field of Dreams. And maybe The Sandlot.
Sigh.