Just got in from shoveling. Again. It's like a competition. This bout with the shovel was the best, because it was raining. Truly. Nothing like it, especially with the promise of more snow for the evening. Ahh.
I got to perform a wedding earlier this afternoon. Right before I went into the sanctuary, I stopped to look through the foyer windows & out into the world – amid the falling snow, I saw sun. Little blue sky. Rays sparkling off the plentiful snow piled on the ground. Beautiful, like myriad diamonds. What an environment to do a wedding in, I thought.
After the wedding, I was lurking outside the room where the pictures of the bride & groom & their families were being taken… thinking about the weather, wondering when in my life I'd learned to hate snow. Don't know. At some point, the sheer joy that falling snow would bring had been replaced by a dread, a tangible negative response in my gut. Tried to pin the time down, but nothing came to mind. It's fear.
Fear? Of snow? Why? Hmm.
---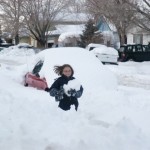 Is it from worrying about having to transport youth group kids from home to Camp in the mess of snow? Worrying about theBean traveling from Sonora to C-town when we were dating? Getting stranded during my Domino's delivery days? Or is it more recent, from the blizzard of 2005?
Why fear?
Something comes to mind: Danger. Separation. Isolation. Being without. Lack.
Hmm. Not sure why, but the realization & beginnings of identification with the pit in my gut makes me feel better. I pray. Ask for a new way of seeing snow. For comfort. Truth. Confidence in my God's care & provision for me.
---
I look outside again & see that there is a backhoe in the Church parking lot. Scraping the snow off the lot & the driveway. It's Rod, a guy from Church – he found out we didn't get the lot scraped after the big snow Monday & borrowed the backhoe from his workplace. Then, he came up on his day off & spent a few hours plowing & scraping the residual snow & ice from the lot. Went out & talked with him. He was beaming. Glad to help, to do 'his part.'
I wept…
---
Now, it's later, & I look at the winter wonderland that has enveloped all I can see around me. Flakes the size of Silver Dollars (remember those!?) are falling. I sense awe, & wonder. Ponder the beautiful blanket of snow that makes everything it covers a work of art. Amazing.
I want to go shovel again… maybe later.