Today was Eddy's day off, which perfectly coincided with my day too. I woke up at 7:15 to the sound of the Brandenburg Concertos, my preferred alarm. (It's hard to be grumpy hearing the sound of Bach, even in the morning when one's body is telling you that its really 11:15 p.m. & you should be GOING to bed, not getting up. But I digress.)
Laura made pancakes, Eddy-style, meaning they were filled with almonds, apple, & coconut. I ate to my hearts' content, using syrup, Nutella, & apple marmalade as toppings for different rounds of pancake-ery. Good times. The coffee was excellent as well.
Beings as it was the day off & the two oldest kids were at school, it seemed like a good idea to take a nap. So I laid down on the couch with a favorite book, (Heschel's The Sabbath,) & read/napped for about an hour. I think. :)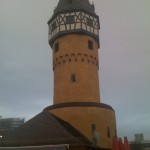 Woke up in time for lunch, which was raviolis. Eddy & family headed off to a birthday party & I set myself for an afternoon of solitude. Which is my favorite. Read & dozed for a bit, then decided to head towards the city, through Bockenheim, which is where the church is located. Walked past the White Tower, which is located near the university. It used to be a watch tower, a line of defense for the city of Frankfurt.
Made my way past the familar cafe's & university dorm-style apartments towards the city center. It was quite a ways away… further than I'd remembered, which is funny, because I usually take the U-bahn downtown. And now I remember why.
This is the "Hammering Man" – he symbolizes the 24/7 work ethic represented within the city of Frankfurt.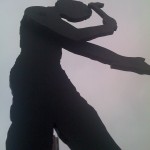 He's about 45 feet tall – makes me think about the Sabbath & the need for rest. (Probably because this is where God first 'convicted' me about my own work-a-holism…) To me, Hammer Man stands for the worst parts of humanity,  Western Civilization & how we so easily work ourselves to an early grave, valuing each other only based on what we make or produce. I know its just a sculpture, but it stands out in my mind as a symbol of what God has rescued me from.
It also makes me think about tomorrow – I'm giving a presentation called, "A Revolution of the Soul" on the topic of living life in all its fullness; talking about rest, life rhythm, & the Sabbath. I have butterflies in my stomach just thinking about it. :) Truly, God's work in my life in this particular area has been one of the most impactful things that has ever happened to me, & the thought that I get to share what He's done in me, & what I've been taught & what I've learned brings tears to my eyes. Sometimes I get weepy. It happens.
Came home from my walk just in time for pizza & movie night with Eddy, Laura & the boys. Then to bed early so I can get good rest & be ready for the day tomorrow.
Blessings to you!