Eddy asked me to talk to the TPLF 'team' on the topic of developing a culture of love, acceptance, & forgiveness. In preparing for the talk, I was studying my notes & reviewing all the life lived, highlights (& otherwise ☺) from the last 10 years at Hillside. Thinking back, I get weepy, pondering the cost of attempting to figure out just what that "love, acceptance, & forgiveness" looks like, lived out in the lives of fallible, imperfect people.
Trying to condense it into a 25 minutes window almost seemed impossible… but then it's not. At this point, I think that while I (& we. Yes we,) are still a work in process, there is enough water under the bridge, the development of God's purposes for me (& us. Yes us,) that talking to the TPLF'ers about this seems simple…
I found it spilling out of the overflow of what's getting more & more bubbling up in my heart. I started by defining culture as a 'set of shared attitudes, values, goals, beliefs, & practices…" & rolled on from there to HERE.
Living out love, acceptance, & forgiveness is costly… in that its risky & feels 'dangerous' because of the personal & corporate vulnerability that results. It's also freeing, as it seems like living with no net, with a deeper & more reliant (desperate) need for cooperation to what God-the Holy Spirit is doing in & around us. Cause really, living love, acceptance, & forgiveness is simply putting a human suit on God's heart & purposes for humanity.
---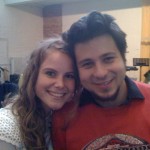 On another note, evidently I had taken a picture at the Sunday coffee party at the Dueck's house that had caught Aris' beautiful girlfriend with her eyes closed. So, I'm posting another one that I snapped last night to make up for it. Very, very sweet.
---
After the meeting, Eddy & I were invited by a couple of people to head over to a place called "Loonas," a kneipe (restaurant/pub) run by an Italian guy named Gianni (Johnny) right around the corner from the famous Bistro Sahin. Hung out there for a while, talking about times when we've been embarrassed by saying something in our mother tongue, not knowing that there was someone nearby that understood it… good times. Embarrassment & the gift of putting ones foot in ones mouth – truly a universal trait of the human race.
Gianni was quite taken with us, partially because it was the 2nd evening in a row that we'd been there… & business was pretty slow. I ordered a Maisel's Weissbier from Austria.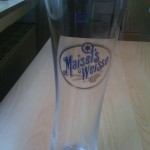 The hefe glass it came it was incredible, so much so that I asked Gianni if he had any for sale. He got a big grin on his face & went & grabbed one from behind his counter – & said, "For you, the American guy, it's free. Just promise me one thing: don't EVER put American beer in this glass. If you do, it will BREAK!" We all had a good laugh at that, & I'm coming home with a great souvenir reminder & sign of God's blessing & favor. Booyah!
---
I've spent today meeting with a couple different people – for breakfast & then again for lunch. The last two days I haven't been able to walk as much as I would like, so I took the U-bahn to the Hauptwache (main station,) where the outdoor mall (& the KatherinenKirche is, where we did the Leben ist Schoen outreach in 2007.) Walked up & down the mall, looking for a new shoulder bag. (NOTE: a shoulder bag is different than a man-purse. I can't explain all the nuances of it, but you'll have to take my word for it, especially if I ever actually pull the trigger on buying one.)
Been using a borrowed (& flimsy) backpack on the trip, & the more I wear & use it, the more my upper back & neck hurt. I'm at the point where I'm looking to spend money to deal with the pain, which should tell you that its become a nuisance… I've tried adjusting the straps etc. but to no avail – hence the search for a bag that would be easier to support, & more evenly balanced. Your prayers for healing (& relief!) are greatly appreciated.
Anyway, it's been raining for most of the day, so I put my hood up, thanked the LORD that theBean had made me take my rain jacket, & walked. And shopped, which consisted of me looking into the stores as I briskly went by each of them. If anything caught my eye, I'd wander in for a few, & then get out as quick as possible. Truly, I am skilled at this. Oh yes.
Found about 4 different, very, very manly shoulder-bags, complete with the imprint of a manly sporting goods company on it. Thinking about colors at this point, & may take the plunge & actually get one tomorrow. Just sayin…
---
I'll be snagging a spare umbrella for the walk to TPLF tonight for Flying Ducks (College Group). Aris, the leader of the Ducks, asked me to bring something challenging, so I'll be speaking from
John 8
, talking about the difference between BELIEF in Christ & being a DISCIPLE of Christ. Hillside-ers would most likely recognize the text & the substance of the message as we spent a good weeks on the topic in our Living as a Christ-follower series… Good times.
---
Something I'd like to ponder & work through later deals with a topic that has come up repeatedly over the last 10 days: fatherhood. I'll put a "," there & we'll get back to it soon. Gotta study a bit, rest for 20, & then head over to TPLF.